Behind any great patisserie is a savvy team of bakers. Among them, pastry alumna Christina Foo (DFP-01-20A) was a key member in the launch of ButterSugarFlour (www.buttersugarflour.sg) earlier this year, led by SHATEC Senior Trainer Chef Pratheep.
Christina recalled and shared her Supervised Field Trainee (SFT) days in SHATEC's Pastry Production kitchen, including her learning process and all that she had gained from it.
SHATEC: Best thing about creating cakes and entremets for ButterSugarFlour?
CH: Being able to make entremets like Strawberry Red Velvet, Heavenly Chocolate Royale and Rocher Exotica made me feel proud of what we do, especially when guests and customers come back for more when they can't get enough of them!
SHATEC: What is your favourite product in the ButterSugarFlour line-up of baked goodies?
CH: Learning how to make tart shells for QUATRE TARTES was so much fun. I explored and sharpened my skills for making tarts, which were packed with different flavours and fillings. I also came up with ideas on how to improve them, based on appearance, design and taste!
QUATRE TARTES limited edition promotion by ButterSugarFlour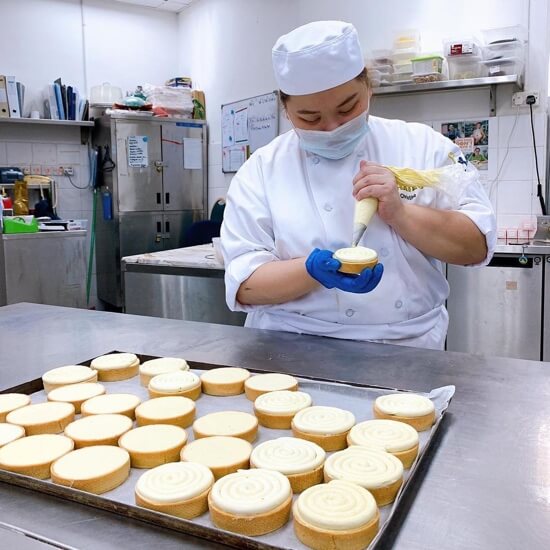 Christina piping the tarts with a pistachio whipped ganache
SHATEC: Did you run into any unexpected challenges or situations while preparing ButterSugarFlour orders?
CH: Making the sponge [of the cake] was not easy at the beginning: it turned out great at times, but at other times, too flat. It was quickly solved when Chef Pratheep taught me how to fold the flour into the meringue properly. After that, the sponge comes out fluffy and golden brown!
SHATEC: Did Chef Pratheep set goals or expectations for you and the team on working for ButterSugarFlour products?
CH: Chef Pratheep has always closely guided us in making the cakes and tarts, ensuring that we learn and improve our baking process, till we can perform independently without failure.
SHATEC: Most crucial aspects in running a high-quality online cake shop?
CH: I think the most important part is to get your basics right, even before trying out difficult or more advanced products. Thankfully, as a SHATEC student and intern, I learnt and could function with the basic skills, before learning more advanced skills like tempering of chocolate for Chocolate Decos, glazing cakes with the right temperature, and decorating them to produce fine, high-quality cakes.
SHATEC: Most rewarding moments for you during your SFT days?
CH: When I went about my the daily tasks and mise en place with no mistakes made; assisted Chef Pratheep to guide students from Practicum who will produce fresh batches of pastries for The Sapling and ButterSugarFlour; and heard how excited my fellow juniors were when they came into Practicum sessions! These made me look forward to my internship each day!
SHATEC: What unforgettable or significant lessons did you receive?
CH: Although I have approached chocolate tempering previously, I never had the opportunity to learn tabling (another technique to temper chocolates). Being able to learn from Chef Pratheep, and eventually temper my chocolates, felt amazing. I picked up skills like laminating croissants to create fluffy, beautiful honeycombs, which I did not expect to learn in my internship days. I'm grateful towards my Chef!
SHATEC: Did you set out having expectations for yourself in your role as an SFT?
CH: I was there to learn as much as I can, to do the things I have never done before. One thing I looked forward to was learning the proper way of making a Coffee Opera cake.

Another was a Croquembouche–a traditional French wedding cake stacked with Choux pastry puffs, filled with the desired fillings, then bound by threads of caramel. My goal was to create one, and SHATEC and Chef Pratheep have helped to realise this!
Christina adding the final touches on her Croquembouche with confidence and flair
After new SFTs joined, I led them through daily mise en place and produced the cakes and pastries served at The Sapling and ButterSugarFlour. It was a short but joyful moment to see how much I've grown, especially with my Chef's trust in me to become an independent baker.
Creating visually attractive desserts for The Sapling, SHATEC's well-known training restaurant
SHATEC: What continues to excite you about pastry and baking?
CH: After seeing all the different pastries and entremets we produced, what excites me most is the myriad of products to explore, and all there is to learn when I join the industry. I definitely got my headstart as an SFT, which gave me a taste of what a production kitchen should be like.
Christina (pictured leftmost) assisting Chef Pratheep (rightmost) in one of his student demonstrations
HATEC: What do you see yourself doing next after you graduate?
CH: Working in production and making big batches of pastries that will be enjoyed by many, while learning new techniques and ways of creating different pastries.
SHATEC: What advice can you share with future trainees in the Pastry production kitchen?
CH: Always keep a positive attitude and be like a "sponge". Absorb as much knowledge and skills as possible, even if it gets tough while you train and aspire to reach new heights.

Whether it is trying something new or something that you have been working on for a period of time, you can still continuously improve upon in the process, so long as you keep your passion and drive going!
-End of Interview-
Visit ButterSugarFlour Online Cakeshop! (https://buttersugarflour.sg/)
ButterSugarFlour by SHATEC features the best of whole cakes, petite cakes, and other desserts to meet the year-round local demand for gourmet cakes to suit every occasion.
All baked cakes and pastries are designed and created by SHATEC's dedicated pastry team, headed by experienced pâtissier Chef Pratheep and served by SHATEC pastry students who are aspiring pastry chefs and passionate bakers.
Your support will serve as an inspiration and motivation for our team to continue creating and innovating. Let our pastry team add some love and mouthwatering magic to your celebrations today!