SHATEC hosted The Sapling's Gourmet Night with guest chef Koh Han Jie, Head Chef for El Fuego, a halal restaurant slated to open in the first quarter of 2019 at Jewel Changi Airport. The first Gourmet Night of the year was a rousing success as guests and patrons indulged in a sumptuous five-course dinner prepared by Chef Koh and our team of SHATEC students.
Gourmet Night is a monthly event featuring exquisitely curated menus designed by Singapore's renowned chefs and presents SHATEC students with an extraordinary opportunity to learn alongside industry stalwarts.
Eager faces and warm exchanges filled the room as guests were ushered in and greeted by SHATEC hospitality and culinary students. The first dish of the evening was the succulent cold appetiser. It was a palate-cleansing mouth-watering medley consisting of Alaskan King Crab, Kaluga Queen Cavier, Pickled Kohlrabi and Rose & Vanilla Tea Jelly.
Our appetites were whet as the second appetizer came promptly served.
The freshly poached egg blended in nicely with variations of Summer Squash, Multi Grains Granola and Parmesan Emulsion. The granola and squash together gave way to a satisfactory crunch, it was a culinary explosion of delight in our mouths!
Throughout the evening, we were humbled and pleased by the professionalism of SHATEC students, as they attended tirelessly to tables of guests.
Once diners have polished off their plates of entrées, the next menu item was another display of Chef Koh's finesse, especially in the sides to go with the versatile protein-packed Confit New Zealand King Salmon.
Plated alongside Ginger Caramel, Green Romanesco, Charred Endives & Cauliflower Cream, the salmon was one feature of what made this night a divine gastronomic experience!
It was an evening of frenzy in the kitchen as Chef Koh led a team of SHATEC students to prepare the menu for distinguished guests. We applaud all your efforts!
Guests enjoyed the main course of Charcoal Grilled Angus Beef Striploin, Truffle Potato, Root Vegetables and Madeira Jus. For non-beef diners, they are treated to a tasteful chicken main. At the Gourmet Night, good food is for everyone!
To end off the night, guests were treated to a sweet and tangy dessert! The Whipped White Chocolate Ganache with Almond Genoise, Creméux, and Coulis & Raspberry Sorbet easily melt in our mouth and gave way to a burst of aromatic flavours.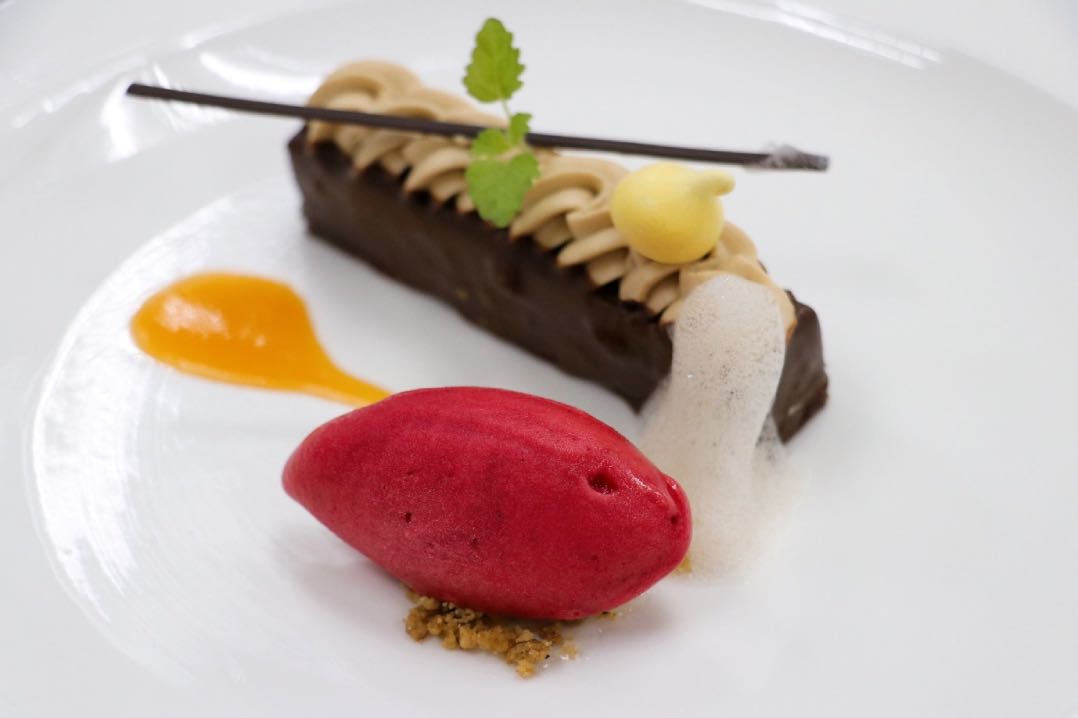 It was finally time to meet the man of the hour! Accompanied on stage by Chef Edmund Toh, Vice-President Culinary for SF Group Limited, and Chief Consultant for The Sapling, Chef Edmund opened his speech for the evening. He commended SHATEC for its relentless spirit in grooming the younger generation of chefs, encouraging their progress as culinary extraordinaires who will be proud and confident of their creations.
Chef Koh took his turn and abashedly greeted the crowds, "Please pardon me. I'm not very good at words…" The room roused and cheered him on.
At only 26, Chef Koh is a promising young chef handpicked by the Michelin-starred chef, Gordon Ramsey as his first intern for Bread Street Kitchen Singapore. Chef Koh also clinched the title of World Champion at the Talent Escoffier Asia culinary competition in 2018, beating seven other Asian hopefuls.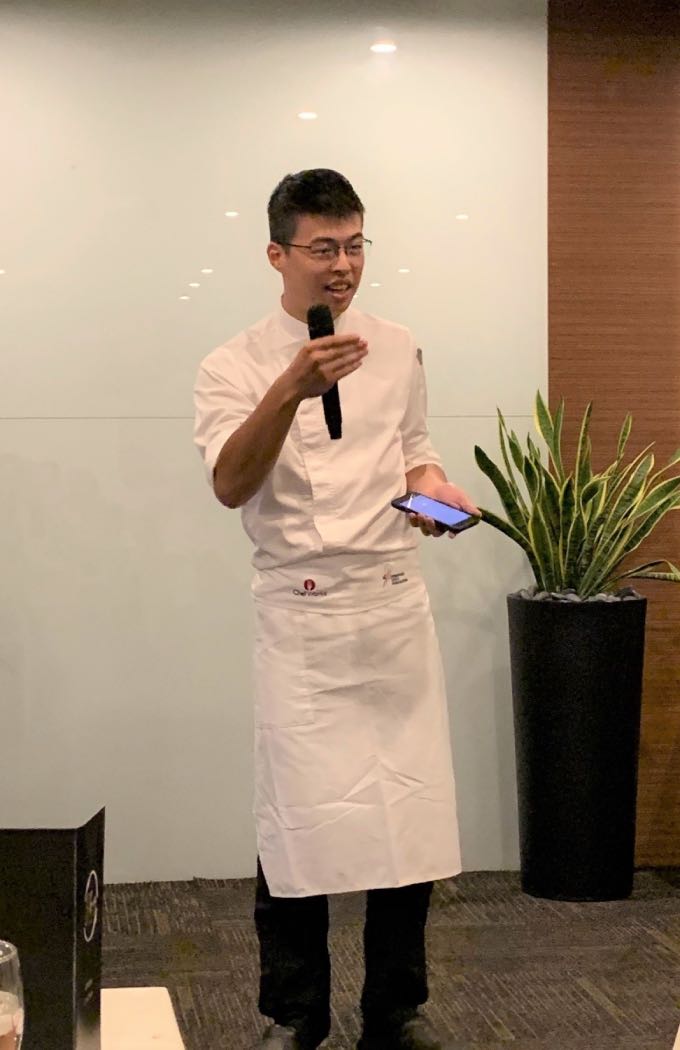 Shared Chef Koh: "I learnt about The Sapling's Gourmet Night a couple of years back when I was invited to dine at the event. Back then The Sapling was located at The Enabling Village. I find it an incredibly meaningful event because chefs get to share with the students their knowledge, and at the same time become co-learners who gain from them too."
He was glad to inspire young chefs to pursue their dreams.
"Working in the kitchen is not easy. So, you need to have passion and keep honing your craft and don't give up. One day you'll become what you are meant to be."
As Ms. Margaret Heng, Chief Executive of SHATEC took to the stage, she commended young chefs like Chef Koh for their persistence and humility in not just creating good delectable food, but also using their skills to bring the hospitality industry to greater heights.
Ms. Heng presented Chef Koh with a Certificate of Appreciation and closed the evening with a quote that called for the imperative: "The future belongs to the young. There is so much that we can all learn from one another to enrich the hospitality scene."
Managing Director of Angliss Singapore, Angel Ding, shared: "As we work with SHATEC to help future generations pursue their passion, what we have is no longer a business partnership, but a blossoming friendship in hopes that our youths seize opportunities and continue to grow the sector."
Irene, Senior Sales Manager at Indoguna Singapore, said: "Tonight's event has been an amazing one. As observed from the faces of guests, everyone really enjoyed the food. We've been a long-time partner with Chef Edmund Toh, and a few distinguished chefs that have contributed to The Gourmet Night. It's a very meaningful event that I will definitely look forward to."
Angliss and Indoguna were the supporting partners for the night's event.The evening witnessed a camaraderie of talent coming in concert as students and industry leaders learned from and grew with one another while deepening their culinary interests.
We would like to thank all supporting partners, industry chefs and distinguished guests for attending the event. We will see you at the next Gourmet Night!
Keep a look out on our Facebook and Instagram for the next Gourmet Night! You may also head to The Sapling website for more updates on current promotions!