As Singaporeans, we do cherish a good meal. After a long day of work or school, we like a good 'wine and dine' ambience with a gastronomic experience to soak in and scrumptious dishes we can write home about.
Established in 2016, The Sapling, SHATEC's dedicated training restaurant is one such destination where you can feast upon just that!
1. Restaurant in an Underrated Residential Gem
Find The Sapling nestled right within the neighbourhood of Bukit Batok, and leave the hustle and bustle of the city behind! After all, Bukit Batok forms one of Singapore's unique landscapes and is certainly an underrated gem in the heartlands!
Previously located at The Enabling Village, an integrated community space that combines retail, lifestyle and training amenities for disabled members of society in Singapore, The Sapling has since relocated to occupy the ground floor of SHATEC.
Only a 10-minute walk from Bukit Batok MRT Station, the restaurant provides a cosy setting for friends and families to gather and indulge in a belly-warming good meal.
It is an accessible stop for residents in the vicinity, as well as office employees from the nearby Bukit Batok Industrial Park.
2. Pocket-Friendly Prices with Hearty Portions
It's a kick in the gut to visit restaurants and have to worry about the bill, but what if we told you that The Sapling has great food that won't burn a hole in your pocket?
The Sapling offers a wide selection of Western and Asian-fusion cuisine to cater to its customers, all at an affordable price.
Most main courses will set you back about $11.90 to $18.00, which means you and I get to enjoy their signatures such as the Classic Fish & Chips, priced generously at only $9.90!
With great meals at pocket-friendly prices, The Sapling is great for all ages dining in, be it students who practise prudent spending, or those who simply crave a satisfying meal with their colleagues and family.
3. Where the Next Generation of Chefs Are Groomed
Upon stepping foot into the restaurant, you will find yourself greeted by young individuals decked in their working uniforms, which are similar ensembles befitting their various roles found in fine restaurants or hotels. These are SHATEC's very own culinary and hospitality students who gain real-life, hands-on experience at The Sapling.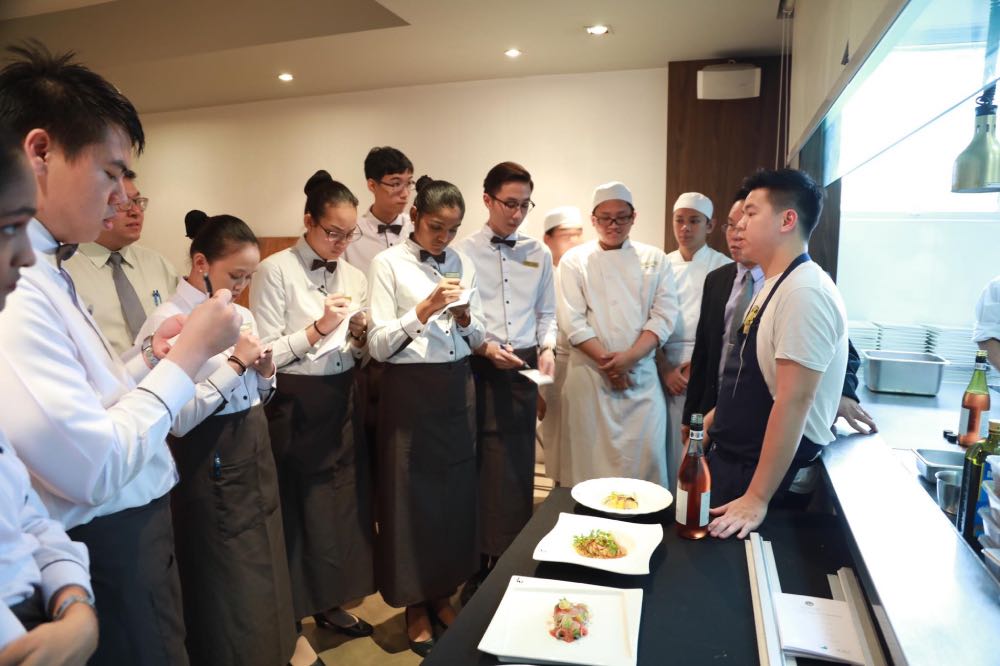 The Sapling has well established itself as a training restaurant that hones the craft of SHATEC students through the firm direction of experienced and skilled chef trainers and The Sapling's energetic restaurant manager, Mr Kevin Loh. The restaurant makes for a dynamic learning environment, with a wide range of patrons for students to impress upon with their creativity, skill and hospitality.
Working in a training restaurant enables the students to think on their feet and grow their confidence in dealing with different situations that may arise in a restaurant. It's exciting to see these young saplings grow to become a strong and sturdy pillar in our tourism and hospitality industry. Do come support these future chefs and service professionals!
4. An Intimate Space Perfect For Your Gatherings
Aside from The Sapling's wallet-friendly offerings for lunch and dinner, a pampering dining experience awaits diners! Tables are laid out with crystal clear glassware, quality utensils and napkins.
The Sapling also serves as a perfect afternoon respite or simply, an out-of-office option for casual meetings. The Sapling makes for an ideal space to host events of various sizes – from group sessions and corporate functions to birthday parties!
5. Wide Array of Options That Promise to Spoil You
Can't decide what to eat? No need to fret with The Sapling's vast dining options!
From Chicken Bolognese to Vegetarian Tortilla Wrap and Black Pepper Striploin Beef Steak, The Sapling has a lunch and dinner menu to offer to each of our unique and exquisite taste buds. For those with a sweet tooth, check out their desserts range that includes refined classics like the Japanese Style Light Strawberry Shortcake and Classical Italian Tiramisu with Savoyard Biscuit.
Mmm, we are drooling for a bite.
Come on down to The Sapling and let us know what you think!
View our menus and operating hours at The Sapling
(Located on Ground Floor of SHATEC)
21 Bukit Batok Street 22
Singapore 659589