If you had an opportunity to study in a local university, would you choose to earn a university degree and get a job or deviate from the social norm to pursue your dream? Hear from Nur Alisa Binte Suhaime, who holds an A level certificate from Raffles Junior College, and took courage to turn down an offer from a local university to pursue her aspiration. She then decided to enrol into SHATEC and is graduating with a Diploma in Pastry and Baking this year. We met up with Alisa recently whose cheery character made the short interview a breeze as she shared with us her decision to pursue her calling in life.
Based on your educational background, what makes you consider for a pastry programme in SHATEC which is very different from your peers?
Having come from Raffles JC, the norm route for its graduates is to take up a degree in fields such as medicine, dentistry, law and science for example. They are all exemplary industries, but they are not everyone's calling. Throughout my education life, the pressure was really on doing well for GCE A levels as we bypassed the GCE O levels so our future was very much dependent on that one certificate. I didn't think much about career prospects until I have graduated and applied for universities like everyone else around me did.
I got accepted into NUS Faculty of Science after a round of interview and had several days to take up the offer. That was when it set me thinking, if I would enjoy being in a lab and remain deskbound for 4 years of my degree and beyond. After seeing my seniors investing a huge amount of their time and energy into their degrees, I thought that I would rather do something that I am truly passionate about and which will keep me going for years. Realising that science was not what I wanted, I turned down the offer which many have yearned for.
My true calling was in the F&B industry. I have always loved working in the frontline and serving customers. My peers saw it as a temporary job to fill in their holidays, but I regarded it as passion and opportunity to hone my skills. It takes a naturally jovial personality, full sincerity and a whole lot of patience to provide good service to others. I genuinely enjoyed interacting with customers and the satisfaction that I gained from the job was immersed, especially the sight of seeing a smile on my customers' faces as I handed them their hot crispy waffles or a cup of creamy gelato.
Making food to bring joy to people is my goal in life. Hence, I decided to be the person who makes the food instead of just serving them, a pastry chef.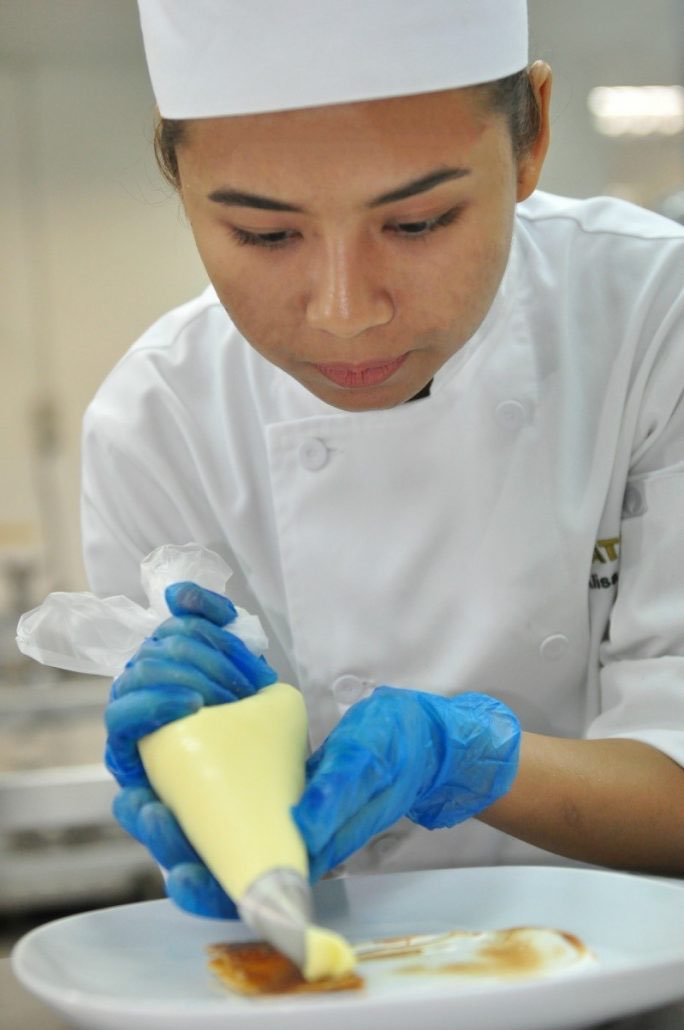 Did your family object to your decision?
My family was supportive of my decision. My mother especially, who has worked hard to raise me to who I am today, would want me to choose a career that I love and not just for the sake of paying the bills. I did face criticisms from my relatives who thought that I have wasted my opportunities and pursue something that anyone else can do. They told me to work in a professional field and cook or bake during my free time. Their comments were hurtful at first, but those exact comments spurred me on even more to follow my heart. After all, this is my life and livelihood.
When did you become interested in pastry?
I would say my grandmother played a major role in getting me interested in pastry. She was an entrepreneur ever since I was young, starting out with curry puffs which she sold at her father's provision shop back in Boon Lay. She would also make Kek Lapis every year for Hari Raya and there is never a lack of customers who would order from her. I enjoy being her personal assistant and love seeing people eating her Kek Lapis. It got me inspired to not only continue her legacy, but also create one myself.
What inspired you to enrol in SHATEC?
I did my research and read up that SHATEC has established itself as a reputable school. With its long history in the industry, securing a job after graduating would be easy as our qualification is recognised by the hotels and organisations.
Can you share with us how did the Tan Chay Bing scholarship aid in your SHATEC studies?
As I come from a family of modest means, having the scholarship aided me financially. My school fees were offset by half and that helped me in getting a new laptop as the last one I had broke down in 2012. With the school entrusting me with this scholarship, it served as a reminder to me in continuing being a role model to my peers and encourage one another to excel.
What is your plan after graduation?
I plan to secure a job in the hotel industry and work for about 8 to 10 years. I am also looking into opening my own business in the future. Personally, I feel that having an exposure in a hotel kitchen is beneficial for any budding entrepreneurs. There is so much that one can learn and skills to be honed. Every hotel interprets and presents food differently so it would definitely open my eyes to a world of possibilities.
In the meantime, I am also working on a small tasting menu for special occasions such as engagements or weddings. I find that the quality of food provided by the external caterer in Malay weddings are often subpar, be it in freshness or varieties. I wish to change that and 'challenge' the taste buds of my community. In a nutshell, I want to produce food that entice and capture the spirit of the occasion.
For now, I will first start with my circle of relatives and friends who are soon to be engaged or married. The feedbacks from them would be beneficial for my future business.
How do you think SHATEC has helped you in realising your aspiration?
SHATEC has opened many doors for me and I am grateful for that. My first opportunity was a part-time job along with two other classmates at The Ritz-Carlton. It was barely two months after starting school so we had little kitchen experience. However, the short stint at The Ritz-Carlton was an eye-opener for us and all of us came back with fresh eyes and new perspectives.
SHATEC also provided us different avenues during our practicum, including places such as hotels and bakeries. For me, I had the opportunity to train at Centre Ps and The Fullerton Bay Hotel.
Our SHATEC trainers also dedicated themselves fully to the job. Under their invaluable guidance and exposure to various challenges, they are moulding us to be ready for the industry.
What advice/quote would you give to others who would like to pursue their own dream?
In this millennial society, it is inevitable that most of us spend a huge amount of our time in our jobs so as to make a living and support ourselves. Bearing this in mind, it would be better if you pursue something that you are truly passionate about.
If you have a passion for something, don't give up halfway just because it takes a long time. Time will pass and you will get to your goals eventually. All of us aspire to be Executive Chefs or run our own business in the future. However, realistically, a fresh diploma graduate may end up just as a Cook 2. It may take a decade to work our way up, but it will be worthwhile because it is our passion and livelihood. When we do something that we love, we will find joy and purpose every day. 
Aspire to be a pastry chef or even own a pastry business in the future just like Alisa?
Apply to our industry-relevant programmes: