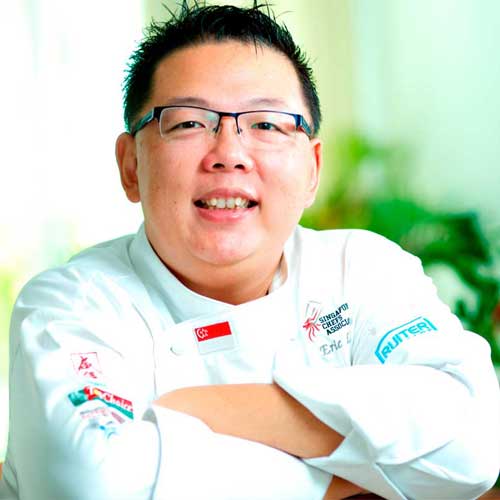 Dear SHATEC Family,
It gives me great pleasure to be invited to pen this open letter to all of you as the new President of SHATEC Alumni. In time to come, you will be part of this family too. Our alumni stand at 30k strong today and are spread all over the world even to the most remote parts.
Our talented graduates from the past 30years are now running some of the best hospitality brands both local and overseas. SHATEC is now basking in the glory of many success stories by her alumni and this is made possible thanks tothe strong foundation laid by our trainers and SHA's high expectations from the days when we were still on the Nassim Hill Campus. The graduates from those eras are now the industry leaders in many organizations.
Well, to be able to enjoy the sunshine today isn't enough and it should never be. To sustain and create continuity, it is going to be an important coordinated effort from the school's administration to mentors, advisory board and alumni and ultimately, the quality of graduates that we would be moulding today for tomorrow's future successes.The SHATEC brand has travelled far and wide, we must maintain that visibility with our core values and standards as an iconic hospitality institution in Singapore.
The Alumni is run by an EXCO of volunteers from different divisions of the hospitality businesses. We aspire to reach out to all our past graduates and future students through homecoming and other social activities. At the same time, we wouldalso like to invite past graduates back to share their experiences, success stories of their achievements and how SHATEC had opened the door for them. Also, past graduates are welcome to join our EXCO for more talented resources that will enhance the objectives of the Alumni.
Having said that, the Alumni committee has a responsibility to reach out to current students as well as past graduates to keep the SHATEC spirit alive and burning. We hope to build cohesion among different generations of graduates to share and network together. This has always been one of the visions from day one from our founding CEO, the late Mr Pakir Singh. SHATEC prides itself as a leading hospitality education institution and we easily have the largest pool of international alumni. Young people from around the world are inspired by the success stories of SHATEC graduates and seek to be trained by our reputable brand. Our foreign graduates are our best informal brand ambassadors for what a SHATEC education has built for them.
The hospitality industry isn't the easiest industry to work in nor is it the highest paid either. How often have I heard the phrase, "being married to the job" from day one. If you are looking for "work-life balance", you need not read on further and I would advise you to consider another profession seriously. Regardless of which discipline, this industry is known for its long hours, physically demanding tasks, burnt holidays and weekends with families, missing out important occasions and sometimes, even facing guests abuse are all part of the job (especially at the beginning of your career path).
It's tough, I don't deny it but tough times don't last, tough men do. Customer appreciation is a given, not an entitlement. Many situations at work we come across is a mind over matter game. The world still moves on and the sun still shines tomorrow. The qualifications that SHATEC gaveyou, allows you to embrace the fundamentals and gave you a better advantage while you learn. However, we know that daily operations of the hospitality business are extremely fluid with work experiences outshining paper qualifications when it comes to dealing with such situations. That is why I must stress the importance of understanding why it is essential for all hospitality workers to start from the bottom of the career ladder to gain ground experience before climbing. It's not easy to see your peers outpacing you with their degrees and salaries in other fields but there are simply just no short-cuts when it comes to our industry. No textbook answers could prepare you to deal with such situations in the future, only with each step you tread on, you learn. Thinking twice now? Well, it's still an industry that offers you far greater rewards and satisfaction than any other if you could overcome those initial tough years of building the foundation of your career. Ask any successful hospitality executive today if the path was easy for them.
Let me share some of my experiences from the day I step into this career- I entered the door at a time where being a chef was not the best ideal job that most parents would want their kids to be in. It was both passion and hunger that drove me here. At the time, this profession was not glamourized by social media, like how that Masterchef TV program which propelled leisure cooks to celebrity chefs in less than a year did not exist. All of us had to tread on the traditional path of hard work, training, pressures and sometimes, even with verbal abuse. It moulded us up to a level where we could manage the positions and responsibilities that we have today. Be true to yourself, be humble, be realistic and keep learning. If you don't have it, you are not going to make it.
I have seen so many chefs wannabes crashed badly when they face the real test, having to bear the brunt of the media. Be adventurous, always challenge yourselves to get out of your comfort zones and see the real world. Comfort zones don't make you grow, they only dilute your hunger and ambitions. The world out there has so much to offer, so,  why lock yourself out in just one spectrum? Till today, after covering three-quarters of the globe with work travel, I still have not stopped learning.
Being a chef is no longer just about cooking, recipes and competitions. Being a chef is not about how many Michelin stars and who gets the World Cup or Olympics anymore. True, these are wonderful milestones to achieve along the way but will the world remember you after the next edition comes along?
A chef has the ability to do more than just cook or compete. A chef can also be pro-active to go beyond cooking. Yes, the word is activist. Yes, we can make a change in the dining mindset of the community we live in. We are empowered to preserve traditions and cuisines so that future generations can enjoy them. We take so much from the environment today to make good food and we have the responsibility to work on giving back the due respect to it, teaching our community to do so. We need to close the gap between gourmet gluttony and starvation. We need to embrace food science, not just to make fancy, hippy, spectacular tastes and textures but also to make food safer for everyone to eat.
I ask all aspiring young chefs here, "What does the word CHEF mean to you?"
For me, it simply means to cook, host, educate, and feed the people around you wherever you are on this planet. It is just so straightforward.
Eric Low
President SHATEC Alumni 2018
Chef Activist
Founder, Lush Epicurean
Background:
Chef Eric Low is an author, food science enthusiast and television personality. He champions Teochew heritage cooking and has published 3 award-winning cookbooks reviving many a traditional Teochew recipe. His recent professional projects and activism work include judging at international culinary competitions, creating and providing mentorship programs to a new generation of young chefs and advocating food waste reduction through the creative use of ingredients. When not hard at work, he plays Teochew percussion music or spends time with his 4 pugs.